Our dedicated mobile sites are now included with every package as well as printable window stickers, buyers guides, and full inventory with thumbnail photos.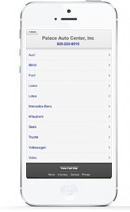 Dedicated Mobile Website Features include:
Image gestures for photo navigation
Clickable maps for directions
Click to call phone number
Quick loading for slow connections
Contact form for customer call to action
If you are on a smartphone, browse to m.autoadmanager.com/8 to get the full experience now.
In addition, most of our websites are designed with a responsive theme for car dealers, which means your desktop website also looks great on various sized screens for tablets and other devices.
Buyers Guides, Window Stickers and Printable Inventory
It's easy to print buyers guides, front and back, window stickers, and your full inventory with Auto Ad Manager. Dealers just login to their account, click on their vehicle list, and click the print button next to each vehicle. Your print out is available in PDF form so that formatting is consistent on your printer. It's as easy as that!