Optimize your site for mobile users or lose potential customers. That's the warning coming from Google directly to car dealers. This article outlines some of the details, but for a quick summary, more buyers are accessing dealer websites via smartphone than ever before, comparing prices, photos, and details before they make their buying decision. Interestingly, after a period of 1 month, 24% of buyers purchase a different vehicle than the one they initially started searching for.
So what does this all mean for you? You will be left behind unless you shift your online marketing strategy to include mobile users. Ask yourself: Do my customers get the same website experience on their cell phones as they do on their desktop computer? Do I have bloated features like flash intro's and photo carousels that don't work on some smartphones? Do my pages load fast or are they painfully slow, especially for someone with limited connectivity?
With AutoAdManager, dealers have a website that works on desktop, smartphone, and tablet computers, all with the same site. We also employ javascript for any advanced features like photo carousels and image slideshows instead of the flash player, ensuring that even iphone and ipad users can see all the features of our websites. Thanks to proprietary code and use of web standards, our websites load faster than most, keeping the interest of our dealers potential customers.
Here is a screenshot of one of our mobile ready websites taken from a desktop computer. (click for a larger image)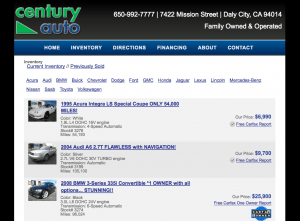 Here is that same website viewed on an iPhone or iPod touch. Notice that content seamlessly wraps down the page and is clearly legible while maintaining the same look and feel.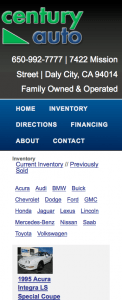 This is not a different website served to a mobile user, this is the same website a desktop user sees. You are providing the same experience to both users while branding yourself. This is a huge advantage. Some mobile sites strip things like your logo and design, all the while getting you lost in a sea of other dealers with the same strategy. Don't get left behind. Make sure you offer a mobile experience that wins you the sale in the end.
Feel free to contact us if you would like more information about how we can help your dealership with this initiative.