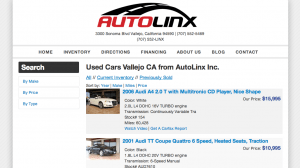 We are excited to be providing Used Car Dealer advertising services for some great customers.
Used Car Dealerships
Barocci Motor Group
Founded by a team of individuals with the goal of providing high end used cars in the Richmond, CA and surrounding areas. The dealership has been fully remodeled and provides a spacious, bright, and attractive environment for buying a used car. The website has been built with our latest technology allowing for quick searches, integrated slideshows and videos, and search engine optimization all included. \
Genel Inc.
Located in Jackson, NJ, Genel Autos is a small family owned and run used car dealership that offers a variety of quality used cars for great prices. The company slogan, "The Wholesale car markets best kept secret, cars and trucks sold at wholesale or below" signifies the mission of the company and their inventory and prices show that.
Autolinx
Autolinx Inc. is  on of the Used Car Dealerships in Vallejo, CA that offers a wide variety of pre-owned vehicles for sale. The inventory is constantly changing and includes a wide range of makes like Audi, BMW, Chevrolet, Infiniti, Lexus, Mercedes Benz, Porsche, Mitsubishi, Range Rover, and more. Most of the cars are close to new and are extremely clean with almost no reconditioning done. Low mileage high quality vehicles are what you can expect from this dealer. The partners that started the business early last year have over 30 years industry experience, and it shows in how they have taken care of the details at their location. They already have raving reviews on yelp.
Website: www.autolinx.com