Facebook, Twitter, Blogs, and other sites have all received a lot of attention lately helping businesses connect with their customers. But how do you get started? What can a dealer do to drive attention to their business?
One way is by setting up accounts on social media websites that contain plenty of information about your operation. Some dealerships link to those accounts from their website, encouraging users to follow their updates.
Here's how AutoAdManager.com is setting up it's customers for social media.
Dealers are actively being moved to our new platform that contains technology to send automatic updates to these sites on a daily basis. Whenever a new car is added to inventory, it is sent to these social sites.
Accounts are created that have the logo, company information, and links about the dealer.
The dealer website is linked back to these accounts and the feed goes live.
Logo's are placed on the footer of the site and visitors are welcomed to follow the account.
That's it! Not a lot of work from the dealer, but a lot of benefits. The savy end user sees that you are a dealership that takes pride in providing easy to use tools for them. You aren't spamming, harassing, or annoying the customer, and are providing them with different options to connect with you. It would be wise to monitor these new accounts or connect them to your personal device so that you can respond to any interest shown.
Some of our dealerships have already been migrated to this new platform. One of them is Nino Motors. Note the photo below that shows at the bottom of each page the non intrusive links that a potential customer can click on.

Once the user clicks on, say the Facebook link, they are taken to an active page that they can "like"  which will in turn display on their own page that their friends are connected to.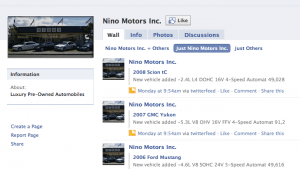 Customers can also keep track of inventory in their favorite feed reader by clicking the orange icon on the bottom right of the footer. MyYahoo, iGoogle, and others are looked at everyday because they personalize content delivery.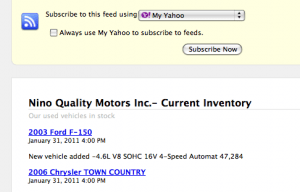 Stay tuned for more on how used car dealers are making social media work for them!