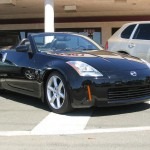 The best way to sell a used car in this market is to make sure you stand out against your competition. Here are 5 tips to help you do just that.
1. Price Your Vehicle Right
To often I see dealers sitting on great inventory for long periods of time because they price themselves out of the market. Do your research, and come up with a fair number that keeps you competitive.
2. Take Better Photos
People appreciate it if you take your time with the presentation of the vehicle. First impressions say a lot. If you need tips on how to do this, check out this post we did earlier on the subject.
3. Brand Yourself
Your advertisements should always have a logo or identifying photo that brands your business. It's important to stand out against your competition, and familiar logos attract customers to you.
4. Provide Accurate Information
If your vehicle has high mileage, state it, don't hide it. If someone wants a high mileage vehicle, they won't have a problem with it. Don't be afraid to disclose information. You have nothing to hide and are only gaining trust and an honest relationship. Always make sure you mention any special features as well.
5.  Be Available
Once you have presented everything you can, make sure you are available to answer questions and setup appointments for test drives. Reply to emails right away, return voice mails as soon as possible, and treat each customer as the potential next owner of that used car.
Following these tips should help any Used Car Dealer sell more cars. Remember, there is a buyer out there looking for your vehicle, you just need to make sure you are doing your part to find them.